What will be on this page?
This page will have links to other great Antarctic/Explorer sites. I didn't use all of them for my research but I did use a large amount. All of the sites below, I recommend. I will check this page reguarly to see if there become any dead links.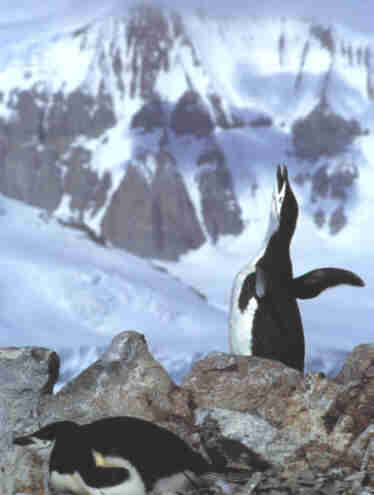 Chinstrap penguin bellowing loudly!
Great Sites!
Glaciers in Antarctica. All about Glaciers that live and form in Antarctica.
A Yahoo biography on Robert Falcon Scott. An interesting biography with a few good pictures.
Survival in Antarctica. Do you think you could survive?
Survival in Antarctica, #2. This is a very good page but it is all writing. If you want something with more pictures, go somewhere else.
More Great Sites!
Robert Falcon Scott. This is a useful site and the information is sorted nicely in to paragraphs.
Cold Facts about Antarctica. This has a LOAD of questions that you might want to know about Antarctica. A great read!
Antarctic Facts. Once again, this site is neatly sorted and easy to understand and follow.
Penguins Galore! This page is all picutres! (But all good ones.)
Everything you need to know about just about anything on Antarctica! Forget about the front page and enter the world of quality sites! Don't be mislead by the main titles, there are many sub-titles to follow!
The International Antarctic Centre. A neat little learning curve!
A page with heaps of Antarctic Links. This page is mainly just a page of Antarctic links. I am not sure if they all work and some of them may be on this page as well but they could be very useful.
A penguin page with style and info! This is the ultimate penguin page with links to other good sites, poems, stories, photos, etc. CALLING ALL PENGUIN LOVERS!
Pictures of all kinds of things in Antarctica along with some useful information. This site has a range of high quality pictures of the Antarctic. Most of the seal pictures that are on the photo page come from here.